Where to find traditional Yorkshire foods
25th June 2021

What's the first thing that springs to mind when asked 'what is Yorkshire known for'… it should be The Devonshire Arms Hotel and Spa at Bolton Abbey, but of course it's Yorkshire Puddings! Here in Yorkshire we do eat more than our fair share of puddings, it's a good old Yorkshire food but we do have some other secret Yorkshire treats that not everyone knows about, most of which can be found at the famous Yorkshire Dales Food and Drink Festival this Summer, however, here are our top 5 Yorkshire Dales real food that we'd love to share with you:
Yorkshire Puddings
Firstly let's discuss the obvious, the iconic Yorkshire Pudding. The first recipe recorded was in 1737 and was named 'dripping pudding' in a book called The Whole Duty of a Woman. Pancake batter was placed under a joint of meat being roasted over a fire and the dripping fat would flavour the puddings below. Hot fat or oil is still to this day the secret to making the perfect Yorkshire pudding. Here in Yorkshire we prefer to enjoy this local classic in the traditional form as a side dish to accompany a huge plate of roasted meat, vegetables and onion gravy. However we hear those folk down in London prefer to make a flat versions of the pudding, filling it with all kinds of creations, rather like a Yorkshire Burrito!
There's no shortage of places to find a Yorkshire pudding in particular on a Sunday - it's our favourite traditional Yorkshire food! However they do taste better in Yorkshire and if you'd like to track down one of the tastiest you must join Head Chef Ross Forder and his team at The Devonshire Brasserie at Bolton Abbey for some of the best pub food in Yorkshire and also listed in the Yorkshire Food and Drink Guide.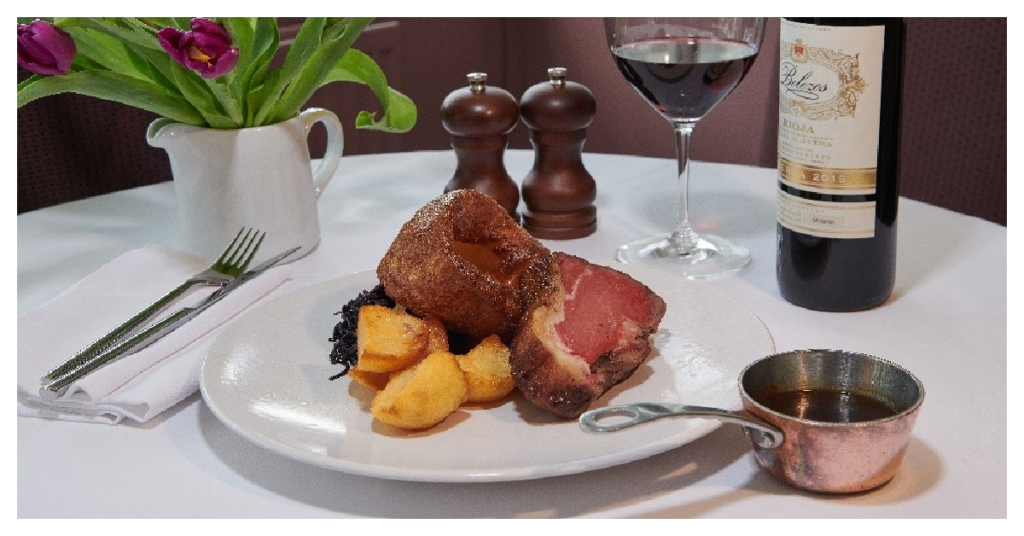 Wensleydale Cheese
'Gromit, that's it! Cheese! We'll go somewhere where there's cheese!' Oh, and you'll find plenty of it here in Yorkshire and most notably Wensleydale made in the village of Hawes.
This Yorkshire cheesy classic was first made by French monks from the Roquefort region who settled in Wensleydale. Originally made by ewes milk the Wensleydale pastures gives this well-loved staple its unique crumbly, moist flavour with tones of wild honey.
So let's discuss what this has to do with Wallace and Gromit. In the 1990s sales had fallen dramatically and the production for the cheese was on the brink of suspension, until good old Wallace proclaimed that Wensleydale was his favourite cheese in A Close Shave and again in a Grand Day Out. It's pretty crackers really as the Animator Nick Park had no idea about the financial issues at the time.
Wensleydale Creamery is just over an hour away from The Devonshire Arms Hotel and Spa at Bolton Abbey. The drive itself is beautiful and it really is the best place to experience this tasty treat. Here in Yorkshire we enjoy this cheese best with a traditional fruit cake (just like Christmas cake), yes you heard it right, fruit cake and cheese - this has to be one of the best Yorkshire food creations you'll try, it's Yorkshire Dales real food!
Yorkshire Parkin…
Or is it from Lancashire? Who actually knows, there's not a great deal of history surrounding this except the recipe was first recorded in book form during the Industrial Revolution. We also believe what makes Yorkshire Parkin different to the Lancashire version is one ingredient and that's our liquid Yorkshire gold, treacle.
Parkin is a traditional Yorkshire food, commonly eaten on bonfire night. This gingery, oaty, buttery, treacly and floury fiery cake will no doubt warm your cockles on a cold blustery night outdoors. Lucky for you at The Devonshire Arms Hotel and Spa it's served all year round, made freshly each day and will be in your room upon arrival. It's far too scrumptious to share for one night only.
Our Head Chef of our award winning Burlington Restaurant, Peter Howarth has been persuaded to share his recipe so you can bake a little bit of Yorkshire in your own home. You'll love this
Peter Howarth's Traditional Yorkshire Parkin Recipe
Yorkshire Curd Tart
Oh, this sweet Yorkshire tart is like our very own version of a cheesecake, a proper traditional Yorkshire food! A rustic tart traditionally baked using a shortcrust pastry base filled with a mixture of curd cheese, butter, eggs, sugar, dried fruit and spices and plenty of nutmeg – it's heavenly.
This indulgent treat hasn't really left Yorkshire, but history does suggest it was created in the mid-1700s by Mrs Tasker. Mrs Tasker lived in Brayton near Selby and created this masterpiece from a waste not want not approach as the bi-product of the cheese making process… curd. Adding all those other ingredients, voila the Yorkshire Tart was born! You will not want to miss this proper Yorkshire food during your Yorkshire food tour.
By far one of the best places to sample a Yorkshire Tart is from the world famous Bettys Tearooms as mentioned in the Yorkshire Food Guide. The closest to The Devonshire Arms Hotel and Spa is located at Ilkley, a 15 minute drive away, and well worth the visit.
Yorkshire Forced Rhubarb
We are a little late to the party with this one. Forced Rhubarb season is January to March, but we re still going to tell you all about this anyway as traditional rhubarb is currently in season, and it's an excuse to come back and visit The Devonshire Arms Hotel and Spa.
The famous Yorkshire Rhubarb Triangle is a nine-square mile area between Wakefield, Morley and Rothwell which is famous for producing early out of season forced rhubarb in old coal sheds. The rhubarb is taken from its natural winter home and planted snugly into a warm dark shed. The long stems are desperate to see light, so grow very quickly up to 5cm per day. Sadly for them the light never comes but for us the stalk develops a sweet delicate flavour which is a less fibrous texture to the outdoor kind, making them a real delicacy.
West Yorkshire remains a very important area in rhubarb production and once accounted for 90 per cent of the world's rhubarb production.
So right now at the beginning of summer the next best thing to Forced Rhubarb is the traditional outdoor version. Currently Head Chef, Peter Howarth has a beautiful summery desert on his menu as part of his 7 course Tasting Menu in the Burlington Restaurant at The Devonshire Arms Hotel and Spa. Poached outdoor rhubarb with fresh and poached strawberries, elderflower ruby chocolate frosting and vanilla pastry cream.